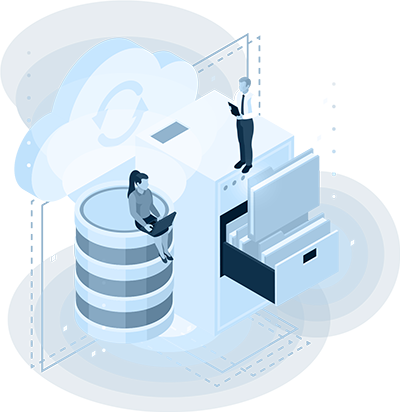 Data Backup Solutions
Data is absolutely critical to the management and operation of every modern business and organization. As such, the continuity, accessibilty, reliability, integrity and security of an organization's data must be assured.
Saskatchewan Data Services can help you to design, implement and manage the perfect mix of data backup, redundancy and recovery solutions in order to ensure the continuity, integrity and security of your data.
Data Backup
SaskData can help you to design, development, implement and manage the data backup solution that works best for your organization based on your circumstances and requirements. From scheduled automated backups to real time redundancies, we have the right solution for you.
Customized Data Backup Solutions
Cloud or Dedicated Server
Local or Off-Site
Data Repository Capacity
Real-Time or Scheduled Backups
Restoration Points
Roll Back Options
Setup and Configuration
Administration
Features
Automated Data Backup
Fast Data Recovery
Complete Data Backup
Files, Photos, Emails
Database Backups
Application Backups
Accounting Backups
Active Archiving
Full Redundancy
Backup Security
Data Compressions
Disaster Recovery
Disaster recovery is really more about disaster planning, prevention and mitigation. The goal is to minimize disruption caused by unforseen events by implementing a disaster recovery system or business continuity plan which is a mix of cloud based infrastructure, data backups, offsite plan, remote work capacilities, policies, procedures and more.
Protects Against
Human Error
Natural Disaster
Fire and Flood
Criminal Breach
Hacking
Virus
Malware
Ransom Ware
More...
Benefits
Critical Data Protection
Critical Data Recovery
Business Assurance
Business Continuity
Business Resilience
Minimize Downtime
Peace of Mind
Features and Services
Disaster Recovery Planning
Disaster Recovery Implementation
Disaster Recovery Management
Automated Monitoring
Automated Threat Detection
Cloud of Dedicated Servers
Secured Data Storage
Real Time Data Replication
Minimized Recovery Points
Rapid Failover
Managed Data Restoration