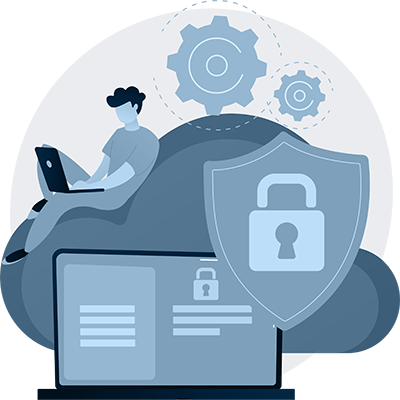 Data and Cyber Security Solutions
In today's environment there are ever increasing threats and risks arising from hackers, ransomware, viruses, network breaches, data theft and more. Data security has never been a more crucial or urgent concern for businesses and organizations.
We help businesses to be better prepared by assessing and mitigating areas of risk while also helping to develop, implement and manage both passive and active measures in the prevention of security breaches and defending against security incidences.
Complete Security Management
For many businesses and organizations, a complete, managed data and cyber security program including planning, solutions, protocols and monitoring provides the peace of mind and protection from potential security threats.
Features and Services
Security Assessment
Advisory and Planning
Preventative Measures
Protocals and Procedures
Identity Management
Network Security
Network Monitoring
Incident Response
Managed Detection and Response (MDR)
Managed detection and response service is a system which combines threat detection software and threat detection monitoring to provide threat alerts which then allows for either automated or managed responses.
Features and Services
Security Assessment
Security Strategy
Security Planning
Installation and Deployment
24/7 Monitoring
24/7 Threat Detection
24/7 Incident Response
Endpoint Detection
Denial of Service (DDoS) Protection
Denial of Service of DDoS attacks are one more of the more common threats against websites and web applications. Proper prevention methods, security updates and monitoring will minimize DDoS risks while ensuring optimal performance and uptime.
Features and Services
Protects Against Volumn Attacks
Protects Network From Being Overwhelmed
Automated Protection
24/7 Monitoring
24/7 Threat Detection
24/7 Incident Response
Redundancy Protocol
Web Application Security
With more and more critical software applications being web, cloud or server based, the need to ensure optimal security, uptime, performance and accessiblity is crucial to an organization's management and operations. Threat prevention, mimization and mitigation methods and techniques will serve to reduce risk and increase reliability.
Features and Services
Application Vulnerability Assessment
Application Vulnerability Protection
Application Server Security
Application Security Principles
Web Application Firewall
Active IP Management
DDoS Protection
Real Time Failsafe